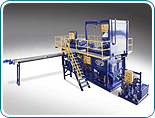 Flexibility and an excellent price/quality ratio
A flexible and customer-oriented method of working in combination with an excellent price/quality ratio made sure that Voorwerk Besturingen, after an explosive beginning, now has a fixed position within its market segment. Still every week new customers find their way to Voorwerk Besturingen, often through word-of-mouth advertising.
Quick respons and delivery times
Isn't it frustrating to wait weeks for an offering? We know the problem and we will do everything to make sure to deliver a clear offering on short notice. Often in direct consult with the customer. Owing to this, the processing time of a project can be accelerated substantional. Moreover Voorwerk Besturingen has its own workshop, a flexible way of working and a large stock. Therefor we are able to have such a short delivery period.
Your own specialist
Voorwerk Besturingen wants to characterize itself as the specialist in explosion safety. We would like to think along with you and for ány question about explosion safety you can rely on us. We can help converting your application (or your customer's) into a solution which meet the requirements of your demands, wishes and legal regulations and conditions. Further-more we can advise you which products fit your application best and are the most interesting commercially and technically speaking.
Do you want more information?
Please contact us. Contact information can be found at the page contact.
Controls



General



Explosionproof



Engineering



Installation


Warning
: mysql_connect(): Access denied for user '12740842_admin'@'2a02:4a8:ac24:117::101:5' (using password: YES) in
/www/doc/www.voorwerk.nu/www/news/includes/dbconnect.php
on line
16
Access denied for user '12740842_admin'@'2a02:4a8:ac24:117::101:5' (using password: YES)