Engineering
All panels are designed and drawn with See Electrical.
This is an automated drawing package for electric wiring diagrams.
This package uses the latest symbols.

The high-end system SEE Electrical Advanced makes the pallet of SEE Electrical solutions complete. This system offers all functionality to shorten the drawing time of electrotechnical projects drastic.
The most striking plus of this professional top program is the possibility of generating wiring diagrams fully automatic. In Excel table the designer chooses which standard template in the project is used, which symbol groups are placed, etc. After adding some parameters the system draws the diagram fully automatic.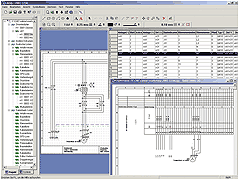 To change modifications in the materials, terminals or connection lists SEE Electrical Advanced has several database editors. The user can use here different sorts - and filter functions. Thus for example terminal list can number again according to their own logic, taking into account the several regulations for numbering.
Further there are functions to add pages and the possibility to change the templates. Finally with the print manager you can define your print-outs to your personal standards.
For your control panels we use several brands of PLC's, like Siemens S7-200 / S7-300, Telemecanique Twido / Modicom M340 / Zelio or other brands on request.
Controls



General



Explosionproof



Engineering



Installation


Warning
: mysql_connect(): Access denied for user '12740842_admin'@'2a02:4a8:ac24:117::101:5' (using password: YES) in
/www/doc/www.voorwerk.nu/www/news/includes/dbconnect.php
on line
16
Access denied for user '12740842_admin'@'2a02:4a8:ac24:117::101:5' (using password: YES)