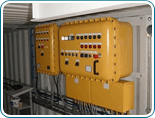 General
Besides a complete assortment of products and panels, Voorwerk Besturingen also offers several supporting services.



It is possible to guide and assist you from advice to the actual start-up of the equipment, but we can support you with just one of above services.
Design / engineering
Voorwerk Besturingen has its own engineering department, all electro technical installations and controls can be designed professionally here. Our experience for years about the correct working of equipment and machinery is used in making designs. This engineering is done in continuous consultation with the customer.
Drawing
When a design has been approved, a complete and accurated drawing must be made before the assembly can be started. Voorwerk Besturingen also provides in a drawing service (Caddy++).
PLC - programming
When a PLC is used for controlling a piece of equipment, Voorwerk Besturingen is your partner for translating the operation into a suitable program. We possess the software of the most common PLC's.
Installation of the equipment
Various legal regulations, guidelines and producers' conditions apply also on the installation of equipment in the hazardous environment. More and more Voorwerk Besturingen is asked for installing and connecting the supplied materials and equipment. We focus fully on projects with explosion safe products.
Testing of the equipment
No product leaves our work shop before is has been tested. This can be a simple visual test, but also a complete test for safe use, a good working order and explosion safety. Also after installation on it is possible to perform a complete test on location. The accompagnying documents, forms and reports (FAT- and SAT-tests) can be arranged and made up by us.
Start-up of the equipment
Before a piece of equipment or a complete machine can be used, it has to be started-up. Voorwerk Besturingen also provides this service to ensure a problem-free last stage in the installation.
Controls



General



Explosionproof



Engineering



Installation


Warning
: mysql_connect(): Access denied for user '12740842_admin'@'2a02:4a8:ac24:117::101:5' (using password: YES) in
/www/doc/www.voorwerk.nu/www/news/includes/dbconnect.php
on line
16
Access denied for user '12740842_admin'@'2a02:4a8:ac24:117::101:5' (using password: YES)